---
As scooters are trialled in London, Tom Hodgkinson dodges the speed freaks in Paris

One of the greatest things about London is its proximity to Paris. It's quicker and easier to get to the Gare du Nord than to Bodmin Parkway.
When I arrive, as I did recently, I am always struck by how amazingly Parisian Paris is. It just doesn't disappoint. It's like when I arrived in New York City for the first time at 18. It was exactly how I'd imagined it: enormous cars, stop signs and shouting.
So it is with Paris. Everyone looks so Parisian, whatever their skin colour, age or gender: self-assured, smiling, sophisticated, well-dressed, with colourful scarves and an ironic grin. The cafés really do spill out on to the street and there seem to be precious few of those snack chains that blight the streets of London.
Driving around in a taxi, whose driver, with his Roman nose, swept-back grey hair, sideburns and lugubrious grin looked like an ageing French pop star, I actually did see the Louvre, the Rue de Rivoli and the Tour Eiffel.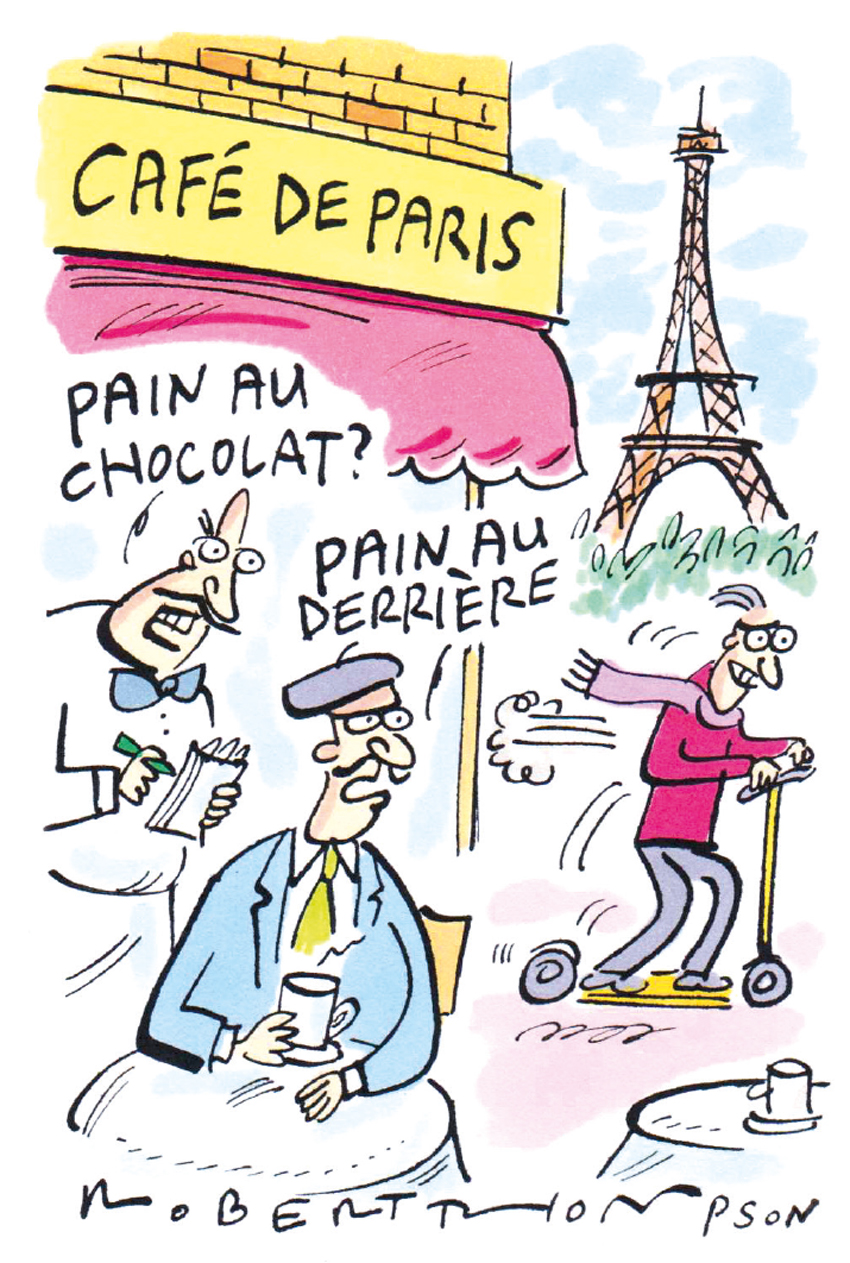 In the evening, I sat at a little table with a beer and smoked a cigarette. I then dined alone at a small, family-run corner restaurant near my hotel in the Marais. I felt I never wanted to go back to London. This was really living.
My visit to Paris got me thinking about that lovely old song from 1919, How Ya Gonna Keep 'Em Down on the Farm? Sung by Nora Bayes, the song was about American farmers' boys returning home from Europe after the First World War. The chorus goes:
How ya gonna keep 'em down on the farm After they've seen Paree?
The lyrics say how the boys will prefer 'jazzin' around and paintin' the town' and that 'they'll never want to see a rake or a plough'. That is the power of Paris. But there is one very disappointing new feature in France's capital. Two heavily funded Silicon Valley start-up scooter-hire companies have polluted the boulevards with their ugly machines, and a certain sort of go-getting Parisian has embraced them with open arms.
On the pavements and roads, people zip past you at great speed; some scooter-owners have removed their 13 mph limiters and zoom along at 26 mph. Paris is a city of ambling, taking your time and being philosophical. But now it is going all starty-uppy.
Both scooter companies have taken their brand names from nature. One is called Bird, implying that the scooters give you the fabled freedom of that species. Bird is starting a trial run in the Olympic Park in London – and the scooters may soon be allowed on the roads
The other company is called Lime; I guess because the better-known fruits have already been taken by other tech companies: Apple, Orange, Blackberry.
Bird and Lime have both chosen Paris for a trial. Bird's founder is an entrepreneur who is well schooled in making money out of transport. Travis VanderZanden was previously VP of international growth at Uber which, Parisians told me, is out of favour there.
Before that, he was at Uber rival Lyft. He raised £11 million last year to fund his Bird scooters project. Paris is his first trial city outside San Francisco. His company is valued at £2 billion.
'We already have a brilliant non-car device – it is called the bicycle'
Bird's rival, Lime, is funded by Uber and Google, which contributed to its starting fund of £250 million. It is already valued at £760 million. The founders of these companies claim an altruistic mission: they say they want to help reduce congestion. That is nonsense; we already have a brilliant non-car device – it is called the bicycle.
What is odd is that Paris has traditionally been fairly hostile to being invaded by Americans. Its taxi drivers put up a strong fight against Uber. And France in general has not always been a fan of the completely free market: Amazon is not allowed to discount the books it sells there. This has the positive effect of keeping bookshops alive. In the UK, where David Cameron fell over himself to let the big tech companies trample all over us, Amazon can undercut bookshops, with the result that half of them have closed.
President Macron wants to work hard and get American. A year ago, he declared he would never concede anything to the do-nothings, the cynics or the extremists.
Macron is leading France away from the things that make it great: slow living, sitting around doing nothing, being philosophical, and talking. Instead, he wants to turn France into a country of time-stretched start-up guys whizzing on scooters to breakfast meetings and checking their Twitter feed.
C'est très triste. Thankfully, the French are fighting back. After a 23 per cent increase in scooter accidents last year, with 284 people injured and five killed, it's just been announced that scooters will be banned from pavements, even if they will still fill the roads.
The old Paris of leisurely conversation, baguettes and arm-waving lives on. And let's hope the scooter start-up guys allez-vous back to California ASAP.