---
As Barbara Windsor sadly dies, Roger Lewis salutes her Carry On films - they captured the grim, post-war mood

France had Truffaut, Jeanne Moreau and Jean-Paul Belmondo. Italy had Fellini and Visconti. Germany had Rainer Werner Fassbinder. Sweden had Ingmar Bergman.
Good luck to them. We had Private Widdle and the late Barbara Windsor, whose bra flew off and hit Kenneth Williams full in the face.
And now Brian Baker, a film producer, is planning to make new Carry On films.

Make no mistake, the Carry Ons are absolutely terrible – a national embarrassment. Sexist, racist, homophobic and meagrely made to the point of cynicism, they are easy pictures to make fun of – and needless to say, modern academics, with their puritanical animus, have been quick to denigrate the series for 'promoting the heterosexual ideology of a male, patriarchal society' and similar, massive affronts.
I love them. I have the boxed set – 29 feature films, dozens of television spin-offs and the Christmas specials, in one of which Frankie Howerd appears in drag as Cinderella's Fairy Godmother.
The series was inaugurated in 1958, with Carry On Sergeant, starring William Hartnell. It was soon followed, every few months, by frantic plots involving teachers, police constables and taxi drivers. Hospitals and doctors were always a popular target – where in the wards nobody was ever dangerously ill, and a nurse planted a daffodil up Wilfrid Hyde-White's bottom.
For a while, the Carry Ons, made at Pinewood, rivalled the Boulting brothers. In films made at Shepperton, with Ian Carmichael, Richard Attenborough and Peter Sellers, the Boultings satirised the legal profession, diplomacy, the church or industrial relations.
But the Carry Ons were altogether broader, more vulgar – cheap in every sense. They did not aim for sophistication.
The first truly iconic picture, with its Sixties bounce, was Carry On Cleo, in 1964. Shot in colour on leftover sets from Elizabeth Taylor's epic Cleopatra (1963), and with Sid James in a Roman centurion costume actually worn by Richard Burton, Talbot Rothwell's script was crammed with innuendo – about erections, testicles, lavatories, tools and jockstraps.
Sex in the Carry Ons was always unmistakably off-putting, despite Swinging London ostensibly being somewhere in the background. Kenneth Williams flinches with horror at the sight of lingerie. Bernard Bresslaw was accompanied everywhere by a battleaxe of a mother-in-law. Sid James ineffectually deals in contraband birth-control tablets in Carry On Matron. Girls with dainty fingers and almost no clothes on, played by Sally Geeson, Carol Hawkins, Jacki Piper and a young Wendy Richard, are bosomy, curvaceous and freckly – yet always a bit dim. Though they are obviously up for it (and 'having it off' is everyone's ambition), nothing much ever happened. The censor saw to that.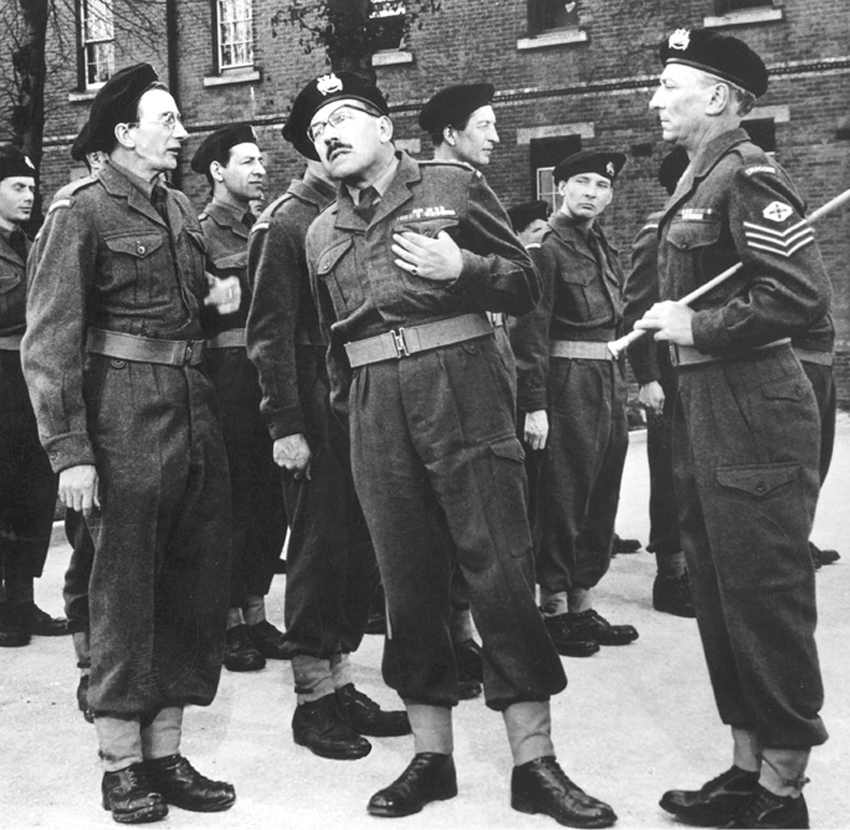 'Every joke has a sexual meaning!' lamented the president of the British Board of Film Classification.
So, when Sid James collapsed on top of Amanda Barrie's sultry Cleopatra, a few inches of celluloid had to be cut 'so we don't see him wriggling his legs'.
When Charles Hawtrey emerged from a tent with a busty brunette, in Carry On Camping, audiences were not allowed to hear him remark, 'She's been helping to stick my pole up.'
If we laugh at what we fear, the Carry Ons are as bleak as Strindberg about the battles of the sexes. Marriage is always a trap and wives are scolds – Joan Sims or Patsy Rowlands as fat old biddies, sitting in the kitchen smoking. Husbands, played by Peter Butterworth or Kenneth Connor, are lazy, feckless and workshy, hoping for tiny victories down the betting shop, dreaming of a quick kiss from the barmaid. Terry Scott, the seething husband of Betty Marsden, in Carry On Camping, was a martyr to piles, and it shows on his face.
The films are gaudy and dirty – and Britain was still recuperating from the war to a large extent when these films were in the cinemas. They portray an England full of restrictions, with the cheerful inhabitants enduring an existence of delayed or cancelled gratifications. They drive rusty cars. They go on day trips to paddle in the English Channel. They eat pork-pie picnics. They go on no-frills, self-catering weekends where Hattie Jacques is queuing for the turbo-toilet.
Leisure is hard work, eg the W.C. Boggs factory excursion to the Palace Pier, Brighton, where the cast stayed at the Royal Albion Hotel, which in actuality was owned by Dora Bryan. But rather the wasps and the rain than venturing abroad. When 'package' holidays to the Balearics came in, the Carry On team went to the resort of Els Bels to have it confirmed that the Continent was full of uncouth foreigners in ethnic skirts eating kinky food, rude waiters, brigands, intellectuals, volatile Latins and fiendish Gauls.
To shoot Carry On Abroad, they remained safely in the car park at Pinewood, which was sprinkled with sand. For the Sahara Desert in Carry On Follow That Camel, they went all the way to Camber Sands, near Rye. Carry On Up the Khyber was shot in Snowdonia, and Hawtrey's drunken antics are still recalled with dread in Beddgelert.
Usually they remained near the studios, within the neighbourhood of Maidenhead, Uxbridge, Windsor and Stoke Poges. Carry On Cowboy was a few papier-mâché cacti on Chobham Common. Hawtrey said that Carry On Up the Jungle was shot 'in a f***ing greenhouse'.
Peter Rogers, the unpopular producer, who lived in Dirk Bogarde's old house in Beaconsfield, did everything in his power to save money and retain maximum profits for himself.
Because the Equal Pay Act hadn't come in, he paid the women less than the men, and everyone was on fixed fees, with no offer of any future percentage of the gross. Sound stages were locked at lunchtime, for fear that crews would charge an overtime rate. Transportation to the studio was out of an artiste's own pocket. When Laurence Olivier expressed amazement at the rubbish conditions, Kenneth Williams said, 'That's why Peter Rogers won't cast you.' For Carry On Screaming, Fenella Fielding had to buy her own costume jewellery.
All this shabbiness shows up on the screen, with the badly lit cardboard sets and the shameless continuity errors. Windows always reflect microphones and crouching cameramen, extras walk past multiple times in each scene, and coats, hats and bags change colour and shape, seemingly of their own accord. Wide-angle and close-up shots seldom match. Props vanish and reappear. Back-projected roads alter unpredictably from country lanes to motorways.
Yet the dilapidated, poky world on view – cardigans, drip-dry suits and Crimplene knickers; the muddy Pinewood orchard painted green to look more summery; the diet of ham and boiled spuds – symbolises an Englishness also found in Philip Larkin poems or Lucian Freud paintings. Not good at sensuality, we are maestros of the dingy.
Behind the gaiety of floral dances, lantern lectures (Frankie Howerd as Professor Tinkle presenting a paper on the oozlum bird), fox hunts and beauty pageants, it is chilly and getting dark.
I feel this particularly when thinking about the magnificent Carry On cast – shouldn't they have been doing Sheridan or Congreve or Coward, or appearing in some classic comedy of manners at the National Theatre? Why didn't such offers come their way?
Hawtrey drank himself silly in Deal, angry at the way he was treated. Bresslaw dropped dead, aged 59. Butterworth died in his dressing-room in Coventry, during a panto. Kenneth Williams's despair and spite led to his premature demise from a barbiturate overdose. And now, very sadly, Barbara Windsor has died at 83. Quite rightly she was made a dame.
Roger Lewis is author of 'Charles Hawtrey, The Man Who Was Private Widdle' (Faber & Faber)