---
As The Goodies star turns 80, Harry Mount reflects on the history of The Goodies

Goodies! Goody goody yum yum… To people of a certain vintage, the words snap you back to the 1970s – and a unique mix of slapstick, silent comedy, silliness and satire created by Graeme Garden, Bill Oddie and Tim Brooke-Taylor.
The Goodies rode high in the television ratings – for the BBC from 1970 to 1980, and then at ITV until 1982. But then ITV cancelled the series. And the grumpy old BBC refused to show repeats in the intervening 36 years, the odd late-night airing apart.
And so The Goodies slipped into a memory hole – cherished by adults and children who were around in the 1970s, but otherwise strangely stranded in time.
But the boys are back! All 67 half-hour episodes are now available on DVD for the first time.
Talking to them, it's striking what pleasure they take in recalling the programme – and their days in the Cambridge Footlights nearly 60 years ago. Graeme Garden, 75, was in the year below Bill Oddie, 77, and Tim Brooke-Taylor, 78.
When Graeme Garden – training to be a doctor – met Oddie and Brooke-Taylor, he was, at his own admission, a little unsure of himself.
'I was far too afraid to join the Footlights to begin with,' he says. 'I joined Cambridge University Light Entertainments – known as Cules. Thank God I didn't join the Cambridge University National Trust Society.'
Garden says this deadpan – just like he delivers his one-liners on I'm Sorry I Haven't a Clue, where he appears alongside Brooke-Taylor – while he waits for me to work out the acronym.
All three come across like their Goodies screen characters. Garden is quiet but breaks the silence to drop in the brilliant one-liners. He recalls delivering babies in Plymouth: 'Ark Royal had been in nine months before – so it was quite a busy time.'
'Graeme's always been like that,' says Oddie. 'Says nothing and then drops in the perfect jeu de mots, and everyone says, "Oh, isn't he witty?" '
Oddie is effusive and chatty. 'He always talks more than us two, but he's manageable,' says Brooke-Taylor, who's affable, mild and gentle.
'The casting in The Goodies is spot-on,' says Oddie. 'Graeme has got a touch of the scientist, Tim has got a touch of the golfer, and I wouldn't wear suits. Class was there definitely.'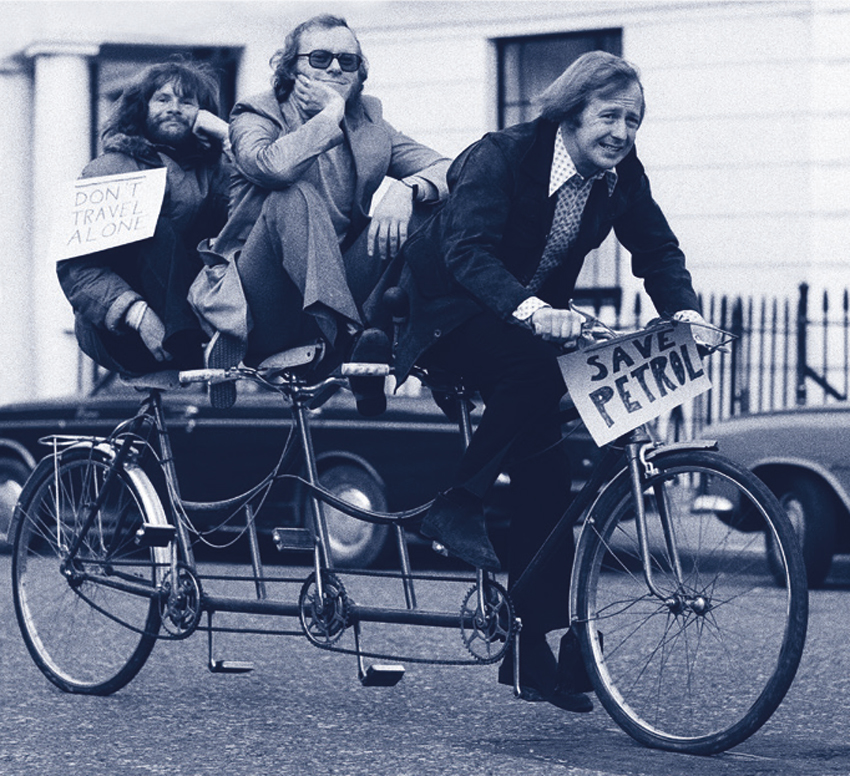 Garden agrees: 'Tim with a hyphen was the posh boy. I was the science boy and Bill was the scruffy little oik. Tim reckons he's the most unlike his character.'
You can see their dynamic at work on Top of the Pops when The Goodies sing their 1975 hit Funky Gibbon – composed, like all their music, by Oddie.
'Bill is absolutely enjoying it, Graeme looks like he wishes he was 1,000 miles away, and I'm in-between," says Brooke-Taylor. 'Still, I've always had two dreams: to score the winning goal in the World Cup, and to be on Top of the Pops with Pan's People. I've done one out of two.'
Garden denies he hated the song, saying, 'I just didn't want to show them up with my funky disco moves.'
There is constant teasing between them but it is clearly affectionate.
'We never had rows,' says Garden, 'Because there were three of us, you always had a two-to-one majority. We never took ourselves seriously enough to get vicious.'
They still get on well together but rarely reunite.
'It's their fault – they both moved out of London,' says Oddie, who lives in the capital. 'Graeme is near Oxford and Tim is in Cookham Dean. I began to bristle when I saw Graeme mutter and look at his watch because he wanted to go home.'
Untangling the birth of The Goodies requires a doctorate in comedy history. Peter Cook was Footlights president in 1960; Tim Brooke-Taylor in 1963; Graeme Garden in 1964; Eric Idle in 1965. And then the future Pythons and Goodies mingled on revues and TV comedies throughout the 1960s.
'I compare it to a football team or a band,' says Oddie. 'They exchange a lead singer every now and then.'
So, when the BBC commissioned the first Goodies series in 1970, all three were drenched in the same influences as the Pythons.
'The ghost of Peter Cook had been very strong at Cambridge,' says Garden. 'Everything we did was labelled satire. We wanted to shake that off. And so we went back to music hall for The Goodies. We were also influenced by silent movies, particularly Buster Keaton, animated cartoons and the Beano.'
The Goodies was distinguished from sketch shows by having a half-hour story, each with a new theme.
'That's the problem with a sketch show – you have to have a punchline,' says Brooke-Taylor. 'We were anti-Establishment – I think that's why we're popular in Australia and Scotland. And not being able to swear encouraged us to be funnier – even if there were some camp parts I wouldn't do now.'
The only premise was that the three of them lived together and would do 'anything, anytime, anywhere'.
'Living together is a good theme, like Morecambe and Wise and the Marx Brothers,' says Brooke-Taylor. 'It means you don't have to go into stories about wives and girlfriends.'
The programme was spiced up with guest stars. 'Patrick Moore was a punk in one episode,' recalls Garden. 'We also had a lot of women who weren't just eye candy – Beryl Reid as Mary Whitehouse [called Desiree Carthorse in the show], June Whitfield, Jane Asher...'
Garden and Oddie wrote The Goodies, with each writing a separate half, and then meeting to splice the halves together. They would swap verbal and visual gags, too.
'I did the least,' says Brooke-Taylor. 'The hard graft was done by Graeme and Bill.'
Before writing, they drew up what they called 'a Panorama list' of themes. 'Anything with a strong image,' says Oddie. 'If it was topical, it was no bad thing.'
That explains the 1975 episode attacking police violence in apartheid South Africa. The BBC objected, complaining it wasn't funny enough. So they added in more jokes, and the episode was aired.
'We'd often put two incongruous things together,' says Oddie, 'Kung fu was big at the time, and we were all from the North. So we came up with Ecky Thump.'
That 1975 episode – about a Lancashire martial art, involving hurling black puddings while wearing flat caps – was the one that led to a fan dying from laughing so much.
The most famous programme was Kitten Kong, the 1971 episode about a giant kitten terrorising London, climbing the Post Office Tower and squashing Michael Aspel. Oddie devised the idea from a rejected sketch he'd written for Ronnie Barker about Barker taking a super-powered kitten for a walk.
The Goodies moved to ITV in 1980 when the BBC dithered about commissioning another series. They were paid three times as much at ITV – and the series was more lavishly filmed.
When a new boss chopped the programme in 1982, the BBC was still annoyed at the trio leaving – and remained annoyed for decades, refusing to run repeats.
' "I have to remind you that the Goodies left the BBC," was the response when fans asked for repeats,' says Oddie.
The programme appealed to grown-ups and children, even though it originally went out at 10pm before being brought back to 9pm.
'I get children from then saying, "I grew up with you,"' says Oddie. 'I tell them, "No one watching The Goodies ever grew up." '
'The Goodies: The Complete BBC Collection' is released on 24th September (£79.99)